By Trish Fontanilla, VP of Community & Customer Experience at 
Vsnap
The group had a chance to do some landscaping, painting, and cleaning. And best of all (next to giving back to the community), there were plenty of cross-company teamwork moments like this one: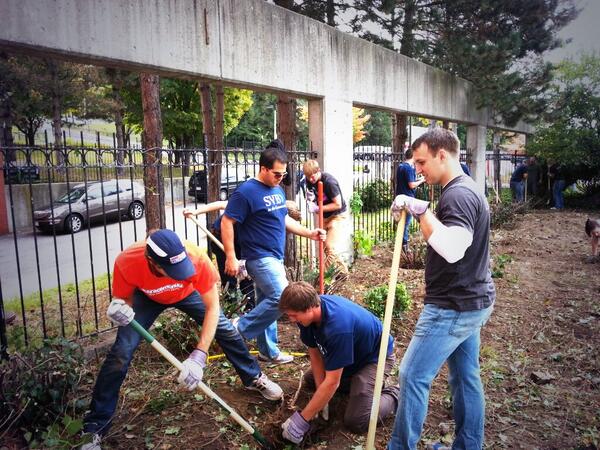 In total, TUGG volunteers contributed 5,000 hours and raised close to $200,000! At the afterparty, a portion of the money raised went to 3 non-profits (as voted by the attendees). The 6 non-profits that exhibited were:


- 
Build Boston
 - BUILD's mission is to use entrepreneurship to excite and propel disengaged, low-income students through high school to college success. 
(tie for the win in the returning organization category)
- 
Dream Big!
 - Dream Big! helps low-income and homeless girls achieve their dreams by providing the basic items necessary to enable them to particiate in sports, physical activity, helping to lay the foundation for healthy, active lifestyles and quality learning experiences. 
- 
Future Chefs
 - Future Chefs prepares urban teens for quality work and life after high school by providing early employment and education opportunities in the restaurant industry, transferable skills training, and ongoing coaching and support. 
- 
Latino STEM Alliance
 - The Latino STEM Alliance strives to become the catalyst for transformation that will enable the United States to overcome the shortage of STEM professionals. 
- 
Science From Scientists
 - Science from Scientists strives to improve science and technology awareness in local middle school and late elementary students.
(tie for the win in the returning organization category)
- 
YouthHarbors
 - YouthHarbors is designed to individually target and assist homeless high school students by helping them locate a safe home base that allows them to stay enrolled in HS.
(winner for new organization category)
It was a truly inspirational day, and I'm so glad I had a chance to be a part of it and rep the Vsnap team. 


Thank you to Roxbury Community College and President Valerie Roberson for hosting my group. And congrats to the TUGG team and all those involved!